I went to the woods because I wanted to live deliberately […] I wanted to live deep and suck out all the marrow of life.

Henry David Thoreau (quoted in the movie "Dead Poets Society")
carpe diem
quam minimum credula postero
* * *
Seize the Day
Trust Tomorrow as Little as You May
"Carpe diem. Seize the day, boys. Make your lives extraordinary." Such was the advice Mr. John Keating gave his students in the movie Dead Poets Society. Along with this, he passed along an answer to the meaning of life: "That you are here – that life exists, and identity; that the powerful play (of life) goes on and you may contribute a verse."
But how do we seize the day? What is happiness, the one thing that we seem to be dreaming so much of and capturing so little of?
Carpe Diem = Reject Living Conditionally
"We don't want to be unconditionally happy. I'm ready to be happy provided I have this and that and the other thing. But this is really to say to our friend or to our God or to anyone, 'You are my happiness. If I don't get you, I refuse to be happy.'
– Awareness: The Perils and Opportunities of Reality
Happiness, for most people on most days, rarely comes with "no strings attached." Happiness is the product of an "if…then…" clause, which is typically phrased in one of two ways:
If I have [X], then I will be happy.
If I do not have [X], then I cannot be happy.
I think the above is more accurately stated as:
If I have [X], then I will be happy for a limited time only (until I see a better alternative to [X] called [Y]).
If I do not have [X], then I choose to be unhappy.
In his eye-opening book Awareness: The Perils and Opportunities of Reality, Anthony de Mello shares an FAQ he gets: "Nobody loves me; how, then, can I be happy?" Anthony replies with this witty question: "You mean you never have any moments when you forget you're not loved and you let go and are happy?"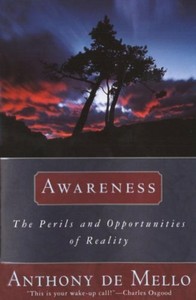 "Until everyone started getting transistors, they were perfectly happy without one. That's the way it is with you. Until somebody told you you wouldn't be happy unless you were loved, you were perfectly happy. You can become happy not being loved, not being desired by or attractive to someone. You become happy by contact with reality. That's what brings happiness, a moment-by-moment contact with reality."
– Awareness: The Perils and Opportunities of Reality
In the words of Naval Ravikant: "That's the fundamental delusion – that there is something out there that will make you happy forever." Once we drop this illusion and come into contact with reality, that is when we are better positioned to Seize the Day.
Carpe Diem = Embrace Living Deliberately
A common rejection to carpe diem is that we should be "rational being" and not be driven by "irrational whims."
John Keating's quote in Dead Poets Society in some ways answers this concern: "There's a time for daring and there's a time for caution, and a wise man understands which is called for." Rather than being the slave of our desires & wants, we should be their Captain.
Such is living deliberately – choosing what preferences to satisfy with a deliberate purpose to stay true to ourselves, and to stay honorable to our values. In the words of Ayn Rand: "Happiness is that state of consciousness which proceeds from the achievement of one's values." Living deliberately means being able and willing to choose actions that not only satisfy our pleasure, but also match our values.
To all friends and readers – Carpe Diem. Make Life Extraordinary. Let us all remember to better seize the day as the footsteps of a brand new year draws near. May we all be better present for 2020 ahead.